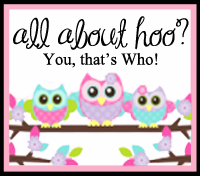 Welcome to All About Hoo? You, That's Who! Link party.
Here are this week's questions:
1) What are your favorite hobbies?
I seem to only have time for hobbies in the summer, and even then, I'm not sure if laying in the pool counts as a hobby... I like to read, shop, stalk blogs, and create TpT stuff.
2) What is one of your best talents?
I have no idea.
3) Are you right or left handed?
Right handed
4) Are you a spontaneous person, or do you like having things more planned out?
I think I am a combo of both. I like somethings planned and other times I like to let what will happen, happen.
Link up at
I created a new page on my blog called "Blogs I Love". Check out the tab at the top. I have included some of my very favorite blogs. Most of them are 1st grade blogs, but not all.
Also, Michelle at No Monkey Business is having a giveaway to celebrate 100 followers.
Hop on over and check it out!