I
joined in the fun of the Magical Product Swap hosted by Jessica from Mrs. Stanford's Class. She came up with a brilliant idea
that allows you to see products by many bloggers/TpT sellers.
I was paired up with Erin from Sample's Superstars. Erin has taught 1st grade for 8 years. she lives in Arizona and teaches at a school with a focus on arts integration. She has a great blog full of ideas, projects, and activities she has created. What I love the most are all of the photographs she includes. I don't know about you, but when I want to make something or am trying to decide if I want to purchase a certain TpT product, pictures always help! Erin's store has 28 wonderful products and 9 of them are FREE!
Here is a link to Erin's blog: Here is a link to her TpT Store: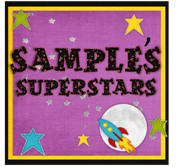 Some of Erin's best selling items in her store are:

August- June Calendar Journal to accompany your morning calendar routine.
Who doesn't love Frog and Toad?? She has a 59 page unit includes literature responses, crafts and math and science activities.
This is a 68 page science unit on ocean habitat completely integrated with Arts and Literacy. Much of the content is taught through quality literature, dance, drama, music and visual arts. Throughout the unit students will making many projects and creating a class mural as well as foldables for most concepts to include in a lap book as a culmination to the unit. There are so many ideas about how to incorporate arts, a teacher could also put on an amazing classroom performance for the parents!

Even though this was made with first grade in mind, this would be great for a review at the beginning of second. The worksheets are great because there is a space beside the two digit numbers for students to draw the base ten representation to aid in solving the equation. It was created with the Common Core standards in mind.
I reviewed a great back to school unit called I Am Unique!

This is an arts integrated back to school unit that celebrates uniqueness and differences among students while building classroom community at the same time. There are 6 lessons-4 based on literature-in this unit and over 10 activity ideas complete with the resources needed to complete the activities. Students will have many opportunities to use visual art to express their individuality!
You will need these books for this unit:
Chryanthemum; We are All Alike, We are All Different; The Colors of Us and It's Okay to be Different.
What's included:
6 days of lessons plans with over 10 activities.
Lesson 1 using Chrysanthemum
Human Name Graph resources, Name Necklace project, Name Game class building activity
Lesson 2 using We are all Alike, We are all Different:
Anchor Chart headings
We are Special self-portrait with song/ poem
"Do you?" Class game
Lesson 3 using It's Okay to Be Different:
It's Okay to be Different Class Book pages with a Fingerprint Mystery activity for class and home.
Lesson 4 using The Colors of Us:
Arts activity for students to celebrate skin color differences- makes a beautiful year long bulletin board!
Lesson 5- All About Me book shaped like a person. Students illustrate and the t-shirts of the person make a flip book of information about each student!
Lesson 6- Using Kandinsky's Squares and Concentric Circles painting to make individual glyphs that can be put together to create a class masterpiece.
Everything you need for this activity including slides to print or project for students are included. This turns out stunning!
I absolutely loved this unit! There are so many activities and chances for the students to share who they are and get to know one another. This project can span several grade levels. I encourage you to head to Erin's blog and read about her classroom and all that she does for her students!