Hi everyone! This is Angela from Hippo Hooray for Second Grade! HUGE thanks to Dana for allowing me to be her guest blogger today, as well as the ladies at Primary Possibilities for coordinating this Guest Blog Hop!
Today I want to share a simple, yet creative way to spice up your classroom calendar. I like decorating my classroom walls with student work and school-made anchor charts. It's so much cozier than store-bought poster sets. Don't get me wrong, I do have some poster sets, but I find the charts my students and I create together tend to be more meaningful. For our class calendar, instead of using the monthly name plates that came with my calendar pocket chart (or other store-bought name plates), I have my students make them.
First, cut 12" x 18" construction paper into strips like this:
Then on the first day of the month, each student receives a strip to make his/her name plate. Students complete their name plate instead of morning work that day. They write the name of the month really big in pencil first, then trace over it with a dark marker, crayon, or colored pencil to make it stand out. Next they add decorations to the name plate that go with each month, making sure they follow The 5 Color Rule. We brainstorm a list of possible ideas as a class in case someone isn't sure what to draw. Students write their names on the back.
Every day the calendar helper randomly chooses a new name plate to display. Here's what my calendar looks like:
Here's a close up of our most recent name plate on display:
I wish I had more to show you, but students take them home after they're on display. December is my favorite month for name plates because there are so many options for decorations!
You should see how proud our Name Plate Artist is when we put up his/her name plate! Towards the end of the month, we might have to put up two (or three in the month of December) a day to make sure everyone's name plate gets a chance to be displayed. What a quick, easy, and fun way to personalize your calendar! My students made their January name plates right away in the morning on the first day back from winter break, and it was such a great activity to help students get back into the swing of school.

I share a little bit of everything at my blog, but my main focus in the next few months is going to be the interactive notebooks I'm piloting this year in science. We will be learning about the solar system, magnets, and electricity! Make sure you also check out some of the other blogs involved in the Guest Blog Hop.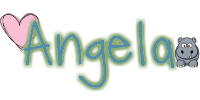 Thanks to Primary Possibilities for putting together this blog hop linky! Fun in 1st grade is the guest blogger for My Second Sense today. Click the button below to read all about turning homeWORK into homeFUN!