I love letting my little ones create in the library, but there are just some things we don't do, because of the mess. One of them is paint. But then I attended the Spring Teacher Blogger Meetup last March and I found out that tempera paint can exist in a stick! You heard me right, sticks of paint. Picture a glue stick filled with a solid paint that dries in 90 seconds. Whaaa?? I KNOW!! Truly life changing in the world of paint.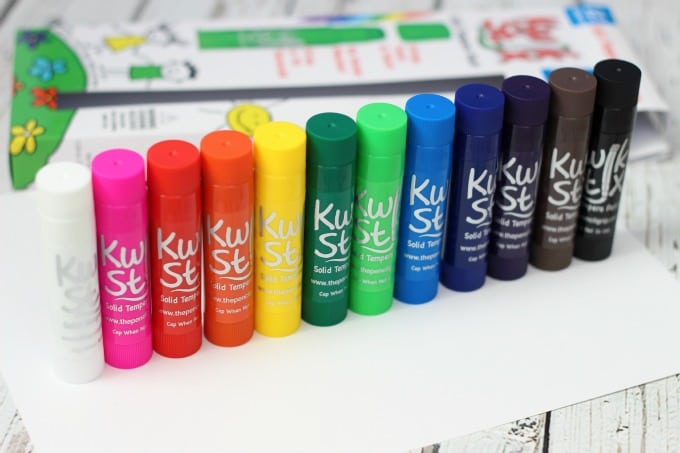 Kwik Stix
really are like painting with a brush, but without the drip and clean up. They are made with a fast drying formula that dries completely in 90 seconds. Whatever you painted may still look wet after a minute and a half, but it is not! Checkout my painting skills below.
It looks wet, but it's not!
You may be thinking, "Hey, those paint sticks look like they've been on a diet..." Well, the good people at
Kwik Stix
just came out with
THIN STIX
! That's what I used to paint this cute heart from
Melonheadz
! They are similar to the size of a marker, but still as awesome as the original. They are better for painting smaller spaces. I could have never stayed inside the polka dots with an original
Kwik Stix
!
Paint is dry after 90 seconds!
Kwik Stix and
Thin Stix
come in so many colors, including
neon
and
metalix
, and can be used on posterboard, cardboard, wood, canvas, and regular paper. They are non-toxic and safe for young children. The best part is....they are affordable!! Check out the full selection on
Amazon
!